Nanotechnology to improve oligodendroglial differentiation in neural stem cell cultures using hydrogels based on graphene derivatives and cerium oxide
This study published in the journal Nanoscale characterizes the formulation of self-assembled three-dimensional hydrogels based on graphene derivatives and cerium oxide (CeO2) nanoparticles to support the maintenance of oligodendroglial cell population after neural stem cell (NSC) differentiation.
Oxidative stress is a well-known repressor of stem cell division and self-renewal. In addition, the accumulation of reactive oxygen and nitrogen species in NSCs critically affects their differentiation, favouring the generation of astroglial cell lineages at the expense of neuronal and oligodendroglial ones. To overcome these limitations, we generated 3D-hydrogels with varying concentrations of graphene oxide (GO) and CeO2 nanoparticles as scaffolds to support the culture and differentiation of NSCs. To fabricate the hydrogel, ascorbic acid (AsA) was used as a reducing agent of the GO sheets. Self-assembled three-dimensional hydrogels were characterised to assess the effects of AsA and CeO2 nanoparticles in their morphology, mechanical properties and electrical conductivity, allowing the attachment and integration of neurosphere-derived NSCs and progenitor cells into the hydrogel thanks to its highly porous structure. Furthermore, we found that the hydrogel formulation containing CeO2 nanoparticles was able to buffer the accumulation of reactive oxygen species in NSCs as assessed by 2′,7′-Dichlorodihydrofluorescein diacetate cell-permeable probe, thus improving cell survival and differentiation towards oligodendroglial lineage during the evolution of cell culture.
The results obtained pave the way for the development of functional scaffolds capable of interacting with stem cells and represent a promising strategy to improve current limitations of cell therapy.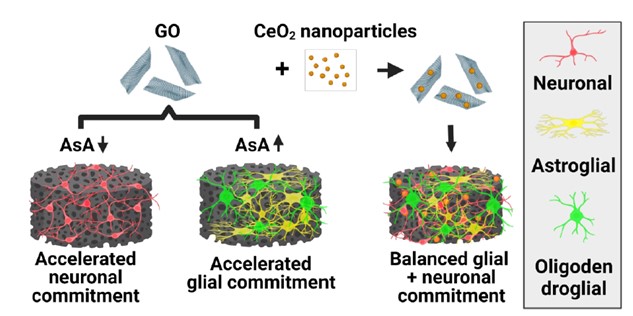 This research was led by researchers from the BERC centers POLYMAT (Dr. A. Larrañaga) and ACHUCARRO (Dr. JR Pineda) carried out in an international collaboration with the "Istituto Italiano di Tecnologia" (Italy), the University of Manchester (U.K.), the University of Bordeaux (France), the UPV/EHU and the Basque Technological Company POLIMERBIO S.L.
More information:
Polo Y, Luzuriaga J, Gonzalez de Langarica S, Pardo-Rodríguez B, Martínez-Tong DE, Tapeinos C, Manero-Roig I, Marin E, Muñoz-Ugartemendia J, Ciofani G, Ibarretxe G, Unda F, Sarasua JR, Pineda JR*, Larrañaga A.* "Self-assembled three-dimensional hydrogels based on graphene derivatives and cerium oxide nanoparticles: scaffolds for co-culture of oligodendrocytes and neurons derived from neural stem cells" Nanoscale. 2023 Feb 8.
DOI: 10.1039/d2nr06545b