New model including glia and neurons to study Alzheimer's disease
Glial cells are essential to understand Alzheimer's disease progression and this model emerges as a powerful tool to study neurodegeneration and inflammation in the context of Alzheimer and other neurodegenerative diseases
The research team led by Ikerbasque researcher Estibaliz Capetillo-Zarate at the Laboratory of Neurobiology of Achucarro Basque Center for Neuroscience and the University of the Basque Country UPV/EHU, has established a straightforward in vitro setting with neurons and glial cells to study Alzheimer´s disease.
Predoctoral researchers, Celia Luchena and Jone Zuazo, together with the rest of the team of this project report a new murine triple co-culture model including neurons, microglia and astrocytes, that holds physiological characteristics that are lost in classical primary cultures. In addition, this model was used to recapitulate amyloid-induced Alzheimer´s disease pathological features like synaptic loss and microglial activation.
Glial cells are essential to understand Alzheimer's disease progression and this model emerges as a powerful tool to study neurodegeneration and inflammation in the context of Alzheimer and other neurodegenerative diseases.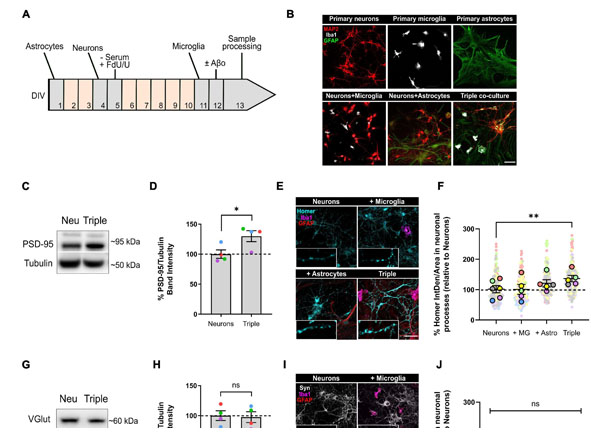 A Neuron, Microglia, and Astrocyte Triple Co-culture Model to Study Alzheimer's Disease
Front. Aging Neurosci., 14 April 2022
Sec.Alzheimer's Disease and Related Dementias
https://doi.org/10.3389/fnagi.2022.844534