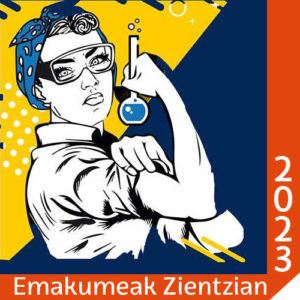 In 2023, 24 entities of the Basque Country, all of us working in the science and innovation sector, with the support of some of our institutions, have joined our efforts to strengthen our individual activities to celebrate and commemorate February 11.
More information:
https://emakumeakzientzian.eus
In 2023, the volunteers and the ACHUCARRO organization have developed or contributed to more than 25 activities and events: We have received visits from schools, researchers have gone to schools, we have organized a gymkhana at the Ribera market in downtown Bilbao, minilabs for young children in our center, visits from women over 55, an online event with neuroscientists, plus the joint activities of the "Emakumeak Zientzian" initiative in collaboration with other partners, etc.
More than 45 people have worked and volunteered to make all this possible and increase the impact of all these actions.
Check the video-summary of all the activities.
Many special thanks to all the collaborators in those activities.
Visiting schools: San Pedro Apostol (Bilbao), San Nikolas Ikastola (Getxo), Hijas de la Caridad (Bilbao), IPI Lemoa (Lemoa).
Hosting schools: Oñati Institutua, Colegio Elgoibar, Colegio Menendez Pelayo, San Nikolas Ikastola, IES Juan Antonio Zunzunegui, San Pedro Apostol, Maristas Bilbao, Deustuko Ikastola, San Pedro Apostol, Zubileta Ikastola, Auzoka – Komunitate zentroa, and Colegio San Viator Ikastetxea, among other.